ATS Lean Scheduling International is excited to announce our new partnership with Smart Software, a leading provider of demand planning, forecasting, and inventory optimization solutions. This partnership allows LSI to offer a more comprehensive range of offerings to our clients, helping them to further optimize their production schedules, reduce waste, and increase profitability.
We at LSI are always looking for ways to improve our services and help our clients achieve their goals. We have often noticed during our Advanced Planning & Scheduling (APS) implementations, that many of our manufacturing clients have a great need for improvement in their demand forecasting and inventory, which led us to seek out a partnership with a trusted provider in this field.
Who is Smart Software?
Smart Software offers a suite of advanced solutions for demand forecasting, inventory optimization, and supply chain planning. Their software portfolio is designed to help manufacturers improve their operational efficiency and reduce costs by accurately predicting demand, optimizing inventory levels, and streamlining their supply chain processes.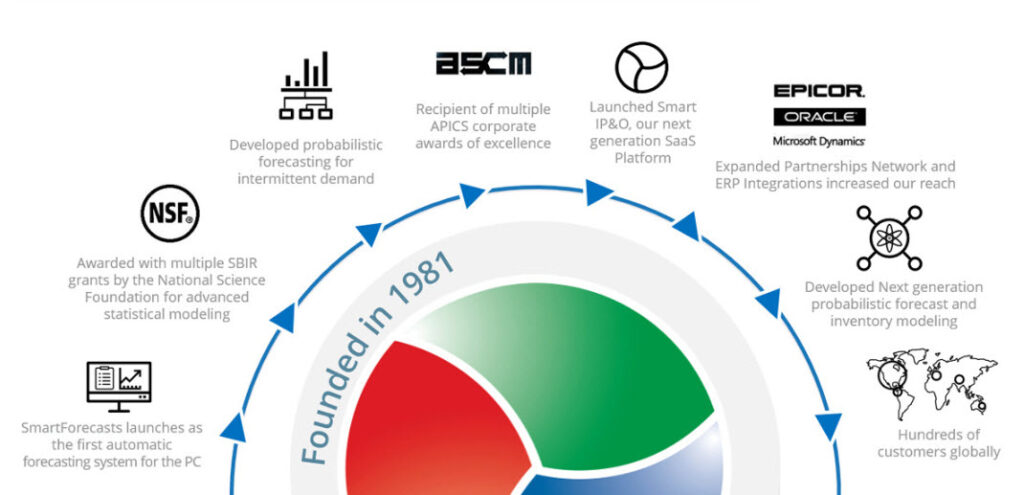 We believe that this new partnership will bring significant benefits to our clients, including:
Improved operational efficiency. By accurately predicting demand and optimizing inventory levels, our clients can improve their overall operational efficiency and reduce waste.
Increased profitability. With better demand forecasting and inventory optimization, our clients can reduce costs and increase their profitability.
Streamlined supply chain processes. Smart Software's solutions help to streamline the supply chain process, reducing the risk of stockouts and ensuring that materials and finished goods are available when they are needed.
Complete end-to-end solution. By combining our Advanced Planning & Scheduling (APS) with Smart Software's forecasting and inventory optimization solutions, we can offer our clients a complete end-to-end solution for production planning and optimization.
We are excited to begin this new partnership with Smart Software and look forward to helping our clients improve their production planning and optimize their manufacturing processes. If you're interested in learning more about our services or how we can help your manufacturing business, please don't hesitate to get in touch with us!
About Smart Software
Since its founding in 1981, Smart Software has been a leading provider of demand planning, forecasting, and inventory optimization solutions.  We help our customers utilize their corporate data including sales history, demand signals, supplier transactions, and more to better forecast demand, optimize inventory stocking requirements, and identify opportunities to improve operational efficiency.  Today hundreds of leading organizations around the globe including FedEx, Hitachi, Otis Elevator, Metro-North Railroad, and Disneyland Resorts, as well as many mid- and small market enterprises use our solutions to improve forecast accuracy and optimize inventory levels.