Opcenter (Preactor) Planning
Siemens Opcenter Advanced Planning (formerly Preactor) software is a strategic decision production planning software tool designed to aid you in long- and mid-term planning. It considers forecast and long-term orders, supports decision making about feasibility, & effects the general direction of production.
Siemens Opcenter (Preactor) Advanced Planning software supports major production capacity decisions surrounding extending the work force, resource capacity, and factories. The solution boosts your production planning by better helping you you determine what and how much to make, where and when to make it, and exactly what materials and resources are required.
Siemens Opcenter (Preactor) Advanced Planning can be executed in finite or infinite capacity mode, and planning time periods can be days, weeks, months, or a combination of all three. If used together with Siemens Opcenter (Preactor) Advanced Scheduling solution, detailed production schedule information can be sent back to the planning system to override planned volume with scheduled volume. Master production schedule (MPS) can then be recalculated using production schedule as the base for new results.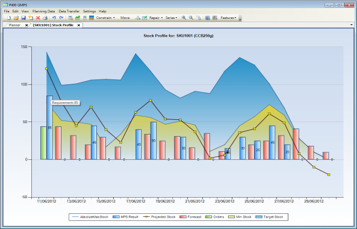 Visualization of the capacity planning chart within Opcenter (Preactor) Advanced Planning
Opcenter Planning Parameters
No matter your ERP, Opcenter APS easily integrates with its built-in API...
More about Opcenter Advanced Scheduling
How do you want to take the next step with us?