After your APS solution is fully implemented and running properly, you and your team will still occasionally need assistance. Not to worry! That is where our support agreements come into play! The agreements allow you to pre-purchase a bucket of hours at a discounted hourly rate that can be used toward answering questions and making minor modifications and/or improvements to the functionality that was delivered during the implementation. These agreements also give you access and priority to LSI's support engineers that are ready to assist you quickly and efficiently.
with your support agreement...
All the Support You'll Ever Need
Our team of support engineers who are familiar with your configuration are here to assist you when issues arise. Whether by phone, email, or directly submitting a support ticket in the portal, we are committed to getting you squared away.
Many of the issues that you experience are issues that we have gone through time and time again ourselves. For these common types of issues, we have stored articles in our Knowledge Base. 
LSI's helpdesk portal gives you the ability to open new support tickets, check status and update tickets, and keep track of past issues. You are also able to communicate directly with your support engineer.
"But I already pay for annual maintenance, why do I need a support agreement?"
Support vs. Annual Maintenance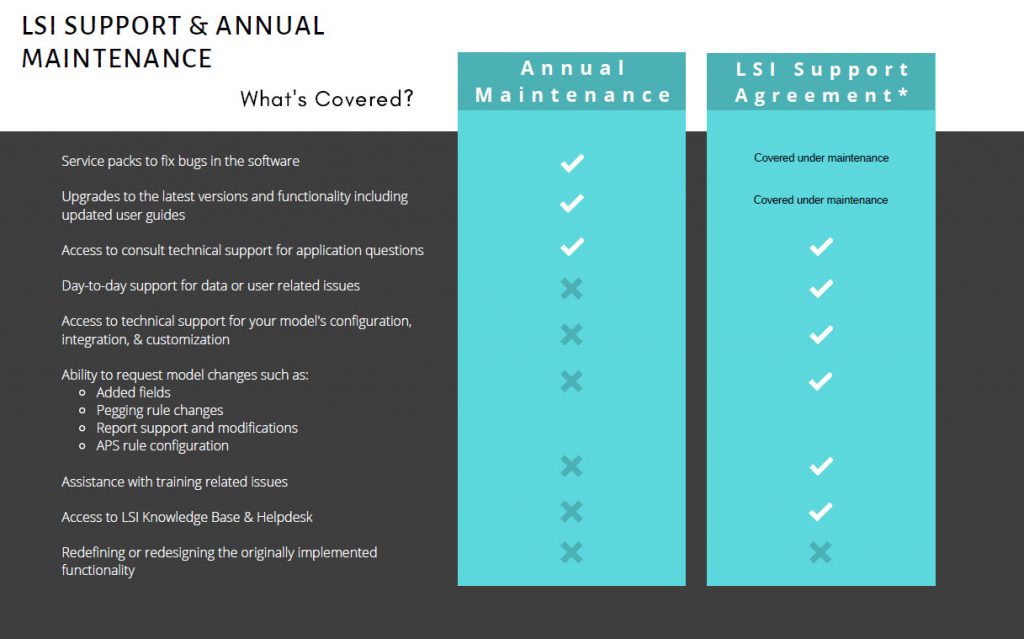 * – you must have an active annual maintenance agreement in place in order to qualify for any LSI Support Agreement
We have support agreement options that can fit your needs