This week, we celebrate Greg Miller's 5-year anniversary with LSI! Greg is such a valued member of our team and brings years of manufacturing and scheduling experience to the table. Back in the spring, we sat down to interview Greg for our spring newsletter so that you could get to know him better. Check out the interview below!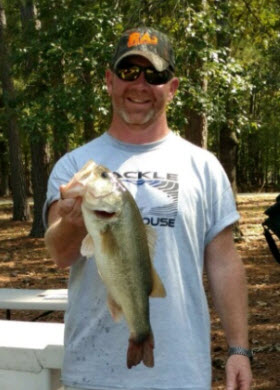 Q: Where are you from, Greg?
A: I proudly hail from Gaffney, South Carolina.
Q: Tell us a bit about your family.
A: I'm happily married to my wife, Karen. We have a son, Jackson, who is a full-time student. We also have a daughter, Kaitlyn, who is a trauma nurse and married to Jordan. But my pride and joy is my grandson, Hudson. I like to call him: "Pop's fishing partner to be."
Q: Where did you receive your education?
A: I studied business at the University of South Carolina Upstate.
Q: What do you do for LSI and how long have you been with the company?
A: I've been with the company around 5 years and am currently the manager of configuration services.
Q: What did you do before coming on board with Lean Scheduling?
A: Early on, I spent 3 years as a Crew Chief for the United States Air Force, then I spent 24 years in the fiber optic cabling industry. Of those 24 years, I was in production support for 2 years, quality engineering for 2 years, scheduling for 6 years, and then a planning & scheduling manager for 14 years.
Q: What do you enjoy most about working for LSI?
A: I enjoy the ability to work with many different industries and companies to help them solve business problems.
Q: How do you define success?
A: We use a term at LSI: "Grit." Grit is a quality in a person that says he or she will find a way to overcome obstacles, if at all possible. When I feel that I have contributed to the success of my family, LSI, and my clients, I feel that I have succeeded!
Q: What is at the top of your bucket list?
A: I'd have to say that fishing in Alaska is right near the top.
Q: What is your favorite hobby?
A: I'm a family man, so I love being a parent and grandparent. Outside of that, I enjoy competitive fishing and football.
Q: What is one thing that you'd tell the 18-year-old Greg Miller?
A: Stop stressing out, lighten up, and enjoy the ride!
Q: What is your biggest pet peeve?
A: No one is in this room… why are the lights on??
Q: What would you say is your favorite dish or food?
A: There's nothing better than breakfast in the Smoky Mountains during winter.
Q: Last question here: What would you say is the most under-valued thing in the world?
A: That's an easy one: Time with your family.