17.1 The Bar tool is back
Back by popular demand, but don't call it the Bar Tool. In Preactor AS, the Operation Properties functionality has been expanded upon, introducing the Operation Display Colors pane and the ability to create Operation Property Profiles. Created profiles can display a wide range of information, and allow for all sections of an operation bar to be modified.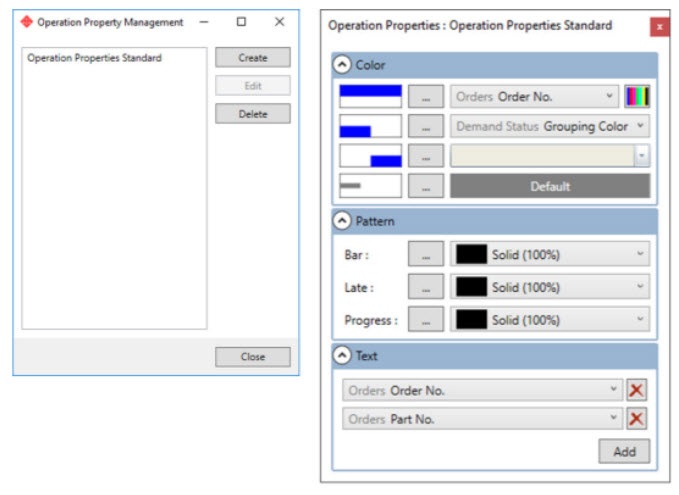 17.0 Featuring improved APS scheduling rules and enhanced overview
Benefits:
Improved APS scheduling rules
Improved overview, supporting multiple Gantt plots and utilization panes
Improved import performance Features
Preferred sequence campaigning mode • Improved minimize overall setup rule
Improved sequencer overview
Preactor software is a family of production planning and scheduling products that improve the synchronization of your manufacturing processes, giving you greater visibility and control, which enables you to increase resource utilization and on-time delivery while reducing inventory levels and waste. Preactor APS is a highly customizable capacity planning and scheduling package. Improved APS scheduling rules Enhancements have been made to the built-in Preactor scheduling rules. Preferred sequence The preferred sequence rule can now run in two different modes; campaign mode and using a traditional dynamic timeline.
When campaigning is enabled, the selection criteria groups all jobs for which the due date falls within the given campaign buckets. The campaign bucket is determined from the campaign reference date and the look-ahead size. When running in traditional mode, the selection criteria is based on the jobs for which the due date falls within the given look-ahead size. The look-ahead window is a moving timeline based on the time of the triggered event. Minimize overall setup rule The minimize overall setup rule is similar to the preferred sequence rule, but is focused on minimizing the setup and changeover times for resources. Improvements have been made to selecting the most suitable resource for the operation. Improved overview The sequencer overview has been enhanced to allow users to have a combination of Gantt chart, plots window and utilization window together in a single view.
An essential part of the new overview is to enable the user to align with a single timeline across all panes, with synchronized zooming. It is also possible to have multiple panes open reflecting a combination of multiple Gantt charts, plots and utilization panes working in unison.
Highlighting operations within the Gantt chart pane will have a global effect across all panes and windows. Multiple Gantt chart panes enable the user to drag and drop operations across different panes. The sequencer will automatically refresh the data on all open windows.
If you are interested in upgrading your Preactor model, please email Chris Brewer at ChrisB@lean-scheduling.com.