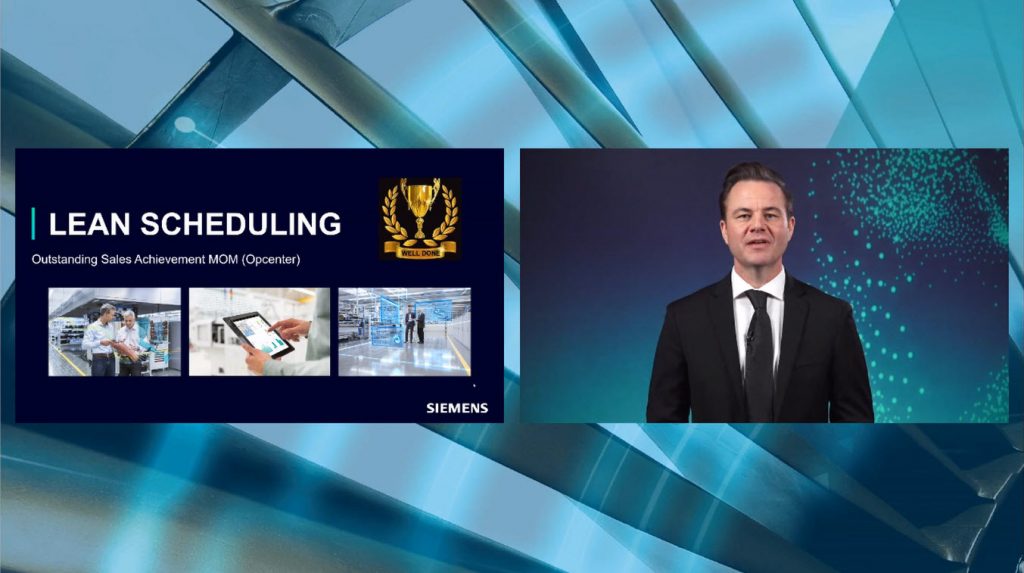 Last month, Lean Scheduling International earned the 2020 Siemens Americas Award for Outstanding Sales Achievement in Manufacturing Operations Management (MOM) Solution Sales at the Siemens Americas Solution Partner Conference. This award recognizes the Siemens Digital Industries Software implementation partner who led all American partners in overall software sales within the MOM portfolio, which includes Advanced Planning & Scheduling (APS), Manufacturing Execution Systems (MES), and Quality Management Systems (QMS), among other products that are designed to improve the performance of manufacturing operations.
"It's interesting," said Chris Brewer, LSI's Manager of Customer Development. "2020 has been a year unlike any other. There have been many challenges and uncertainties for everyone. Supply chain volatility and manufacturing instability have been a major concern worldwide. Because of this, manufacturers have had to rethink the way that they have always done things. It has caused them seek new ways to react faster and smarter to changes in supply and demand. This year, possibly more than ever, we helped manufacturers realize their need for solutions that help them do this, and that's exactly what led to us earning this award. Many companies placed their trust in us during this difficult season to help them be better prepared for the future. So, it says as much about our great clients as it does our team!"
Since 2001, LSI has specialized in the implementation of Opcenter APS, formerly Preactor Advanced Planning & Scheduling, to assist manufacturers in achieving production efficiency and giving them the ability to quickly manage change. More specifically, APS solutions are designed to improve the synchronization of manufacturing processes, allowing for greater visibility and control to increase utilization and on-time delivery, while reducing inventory levels and waste. Without a quality APS system, manufacturers run into high stock levels & WIP, low productivity, delays, and missed delivery dates. However, as LSI CEO Mike Liddell acknowledges, it's not easy to successfully implement a quality APS system.
"Implementing APS has always been a double-edged sword in that although most implementations fail badly, the rewards for success are immense," says Mike. "Over the years we have learned that there is a magic formula that guarantees success. We explain to our clients that they need to follow the three-legged stool strategy: They need the Right Software, the Right Solutions Partner, and the Right Internal Resources. If any one of these elements is missing, then they are guaranteed to fail. LSI has built its success over the years by focusing on doing what it takes to get it right, and this year was no different. Sometimes, we have to drag our customers kicking and screaming to success. What I mean by that is that there are no shortcuts to success."
Despite a year riddled with challenges, there are still many successes to celebrate alongside our clients. We at LSI constantly preach that our solutions are built to help manufacturers not only survive but thrive in times of change. Earning this achievement in a year of seismic change certainly puts weight behind that statement and proves the value within Advanced Planning & Scheduling.
Lean Scheduling International is currently a Siemens Silver Solution Provider and has been recognized as the #1 Opcenter APS seller in the world by Siemens in every year since 2015. LSI currently has 80% of North American Opcenter APS users in their customer base.