Last week, Siemens Digital Industries Software hosted their Americas Solution Partner Conference in San Antonio, TX. The annual conference brings together solutions partners from North, South, and Central America for a week full of interactive sessions in leadership strategy, sales, marketing, and operations. It is also a time to reflect on the successes of the previous year and to discuss what lies ahead. ATS Lean Scheduling International, a Siemens Smart Expert Partner, was once again recognized as a leader in the field of Advanced Planning & Scheduling by receiving two awards at the Siemens Partner Awards Banquet for their expertise with Opcenter Planning & Scheduling, formerly known as Preactor.
Awards for Production Scheduling Solutions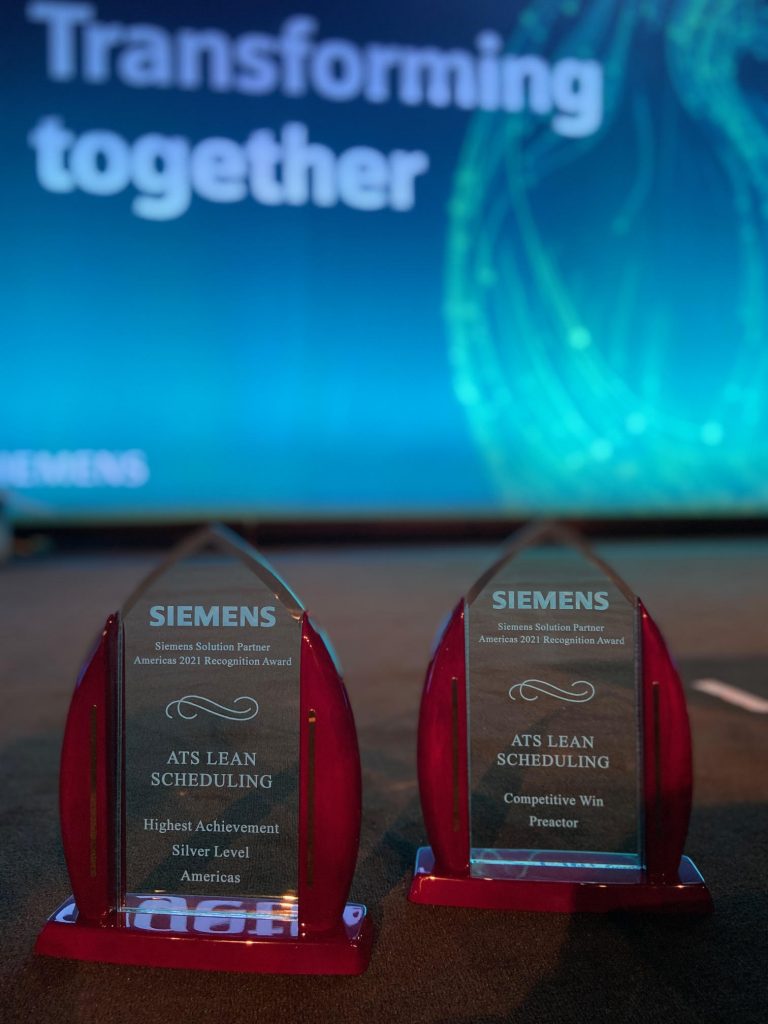 Two awards were presented to LSI for their leadership & expertise in production scheduling. The Competitive Win: Preactor award was presented to recognize LSI's success in securing a substantial multi-plant agreement with a strategic Fortune 500 customer in a highly competitive environment, while the Highest Achievement: Silver Level Americas award was presented for leading all of Siemens' silver level partners in sales for the previous year. Because of this achievement in the silver category for 2021, LSI is now a Siemens Gold Level Partner.
Chris Brewer, ATS Lean Scheduling's Manager of Customer Development, was on-hand to receive the awards on behalf of the LSI team: "It's really incredible being a part of this team. Our leadership has assembled the most experienced Advanced Planning & Scheduling experts in the world, and these awards are a testament to that. We always talk about the 3-legged stool for successfully implementing APS: It takes the right partner, the right software, and the right customer commitment. The combination of our knowledgeable team, committed & trusting clients, and the Opcenter Planning & Scheduling solution is a solid foundation for success that allows for continued growth. I'm particularly grateful that I have the opportunity to work daily with our clients. They have as much ownership in these awards as we do!"
LSI's VP of Sales & Marketing Hans Albright stated, "This is more validation for me of the power of collaboration. I feel so fortunate to have such a talented and customer-centric team of APS specialists working with me, and it's important to include them in the sales process as early as possible. This assures that the sale is driven by rock-solid information that assures project success, but also shows our prospects that we really can deliver the goods in the way we say we can."
ATS Lean Scheduling International has specialized in the implementation of production scheduling solutions for manufacturers for over 25 years. In 2021, LSI became part of the ATS Global family. Now, with worldwide colleagues specializing in automation, product lifecycle management, manufacturing execution systems, quality management, and more, LSI can now bring a closed loop approach to customers and prospects. As we celebrate a year of success, it's now time to look ahead to the bright future ahead!
Contact ATS Lean Scheduling International at info@lean-scheduling.com