APS Connect is an integration module and superset of tools that have been developed & proven in Advanced Planning & Scheduling solution implementations over the past 20 years at LSI.
Track-It! is a web based, shop floor data collection system that was designed and developed by LSI
Overview of Track-It! Functionality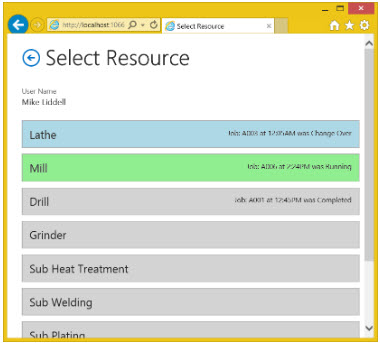 1. Operator sees a color-coded view showing the current status of each machine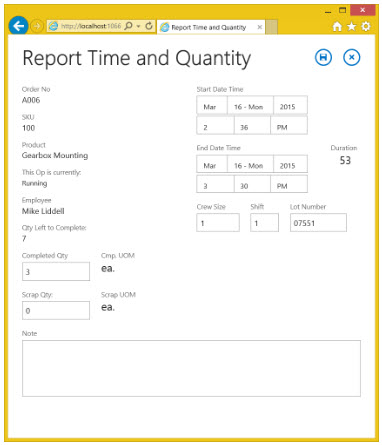 3. Operator can move job to the next state (start setup, start run, or complete) with one click
Operator can see notes from the Scheduler, and can also easily record quantity completed and scrapped with reason code and add further notes. Operators get warning messages when they make a mistake. Supervisors can easily review the daily transactions and fix mistakes.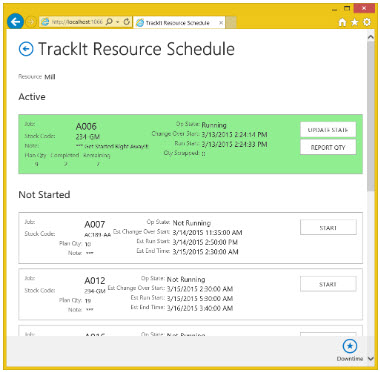 2. Operator selects a machine to work on (single click)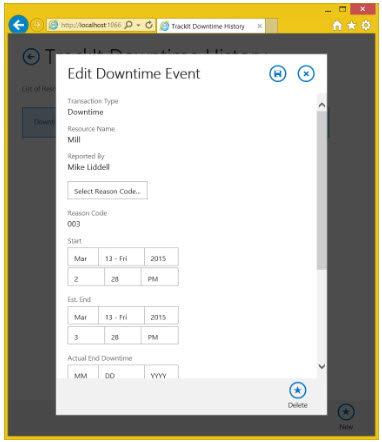 4. Record downtime
Operators can record downtime on a machine with reason. This information can be updated into Preactor.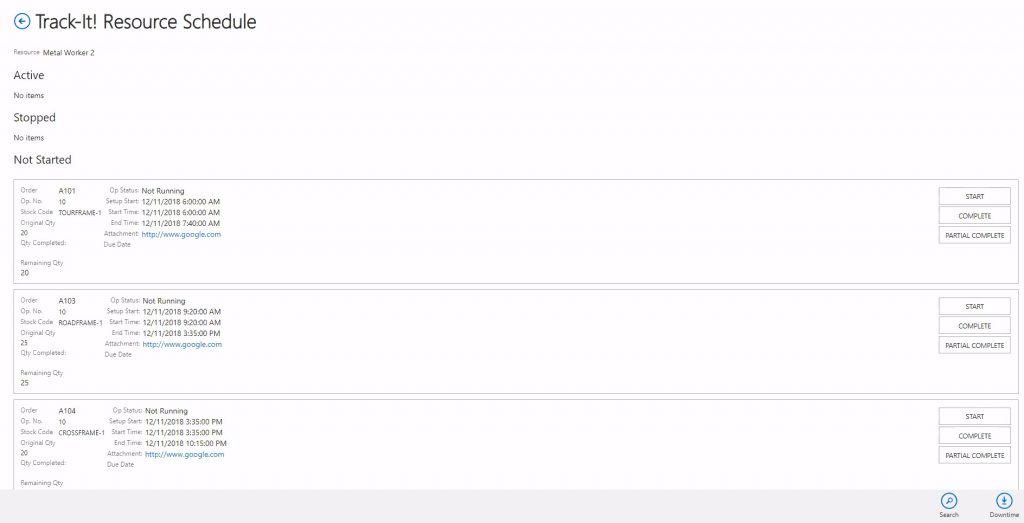 Resource Schedule Display
Track-It! gives the user the ability to quickly & easily create and modify fields. Within the resource schedule, the user is able to see the data related to those fields that have been selected for display.
The user is able to turn their fields on/off within the configuration to change what is able to be viewed in the schedule. In this example, we have chosen to turn a few fields from the above resource schedule screenshot to the 'off' position.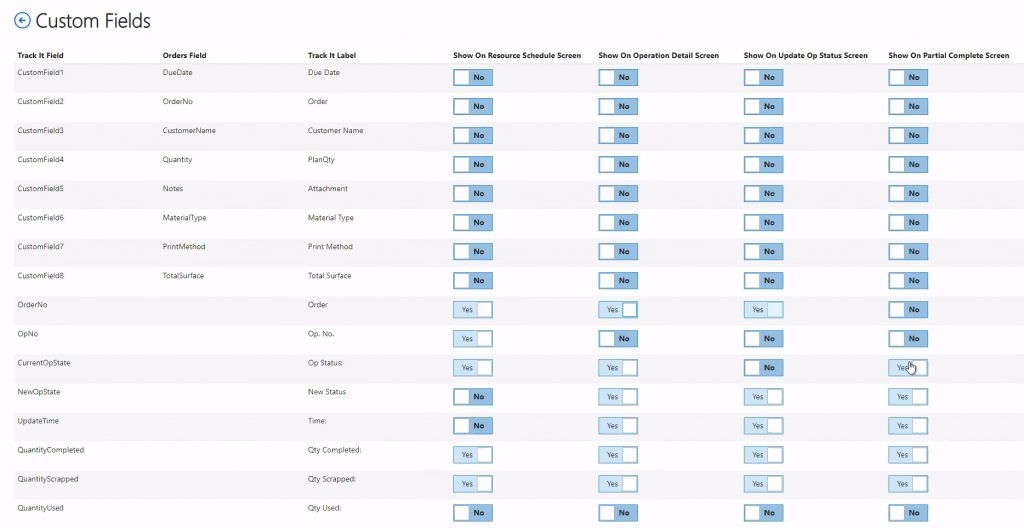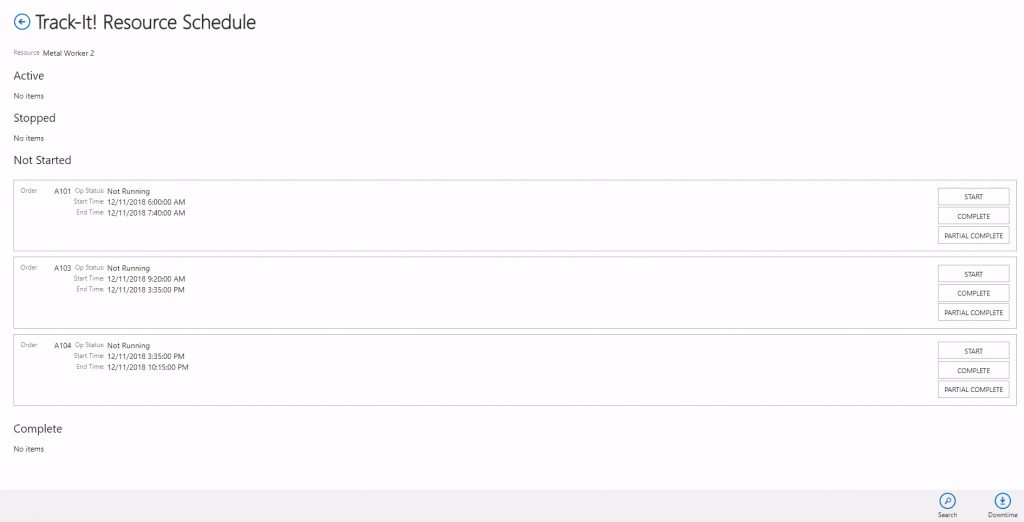 After making selections for which fields are on/off for viewing, the changes are evident in the schedule. As you can see in this example, there are fewer fields than before because we turned many of the fields to the 'off' position.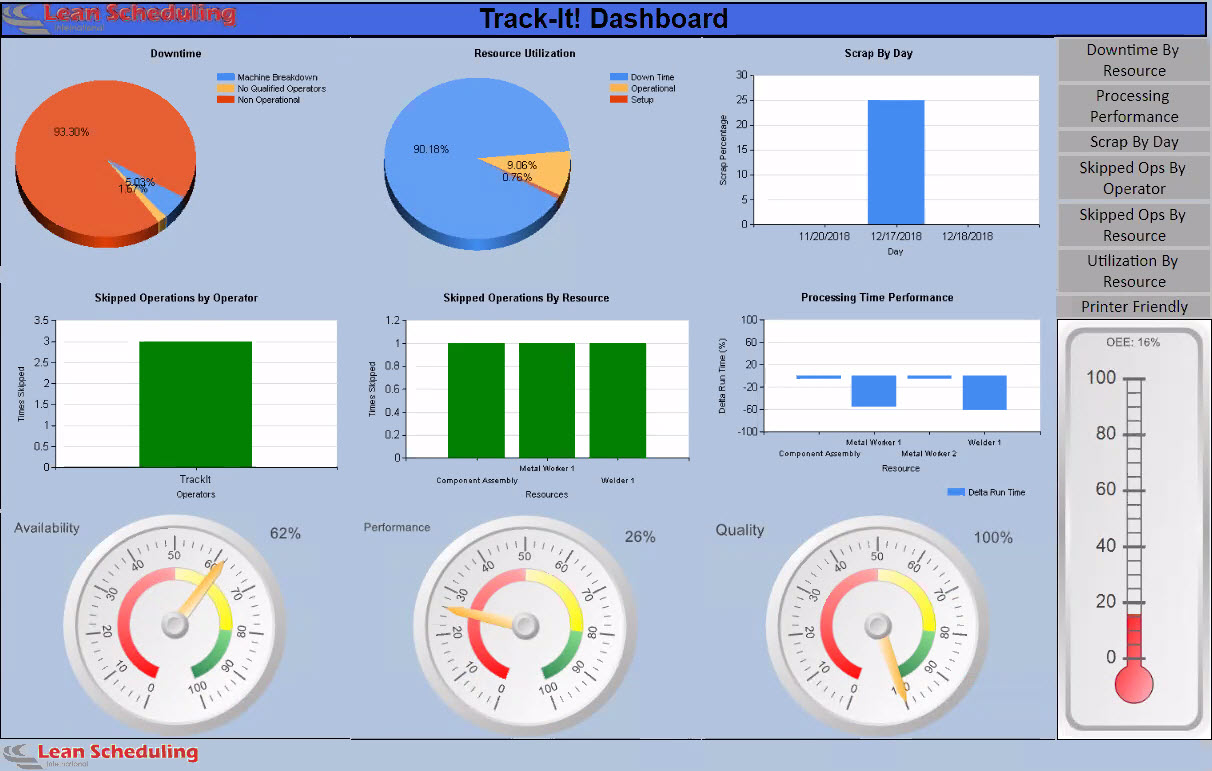 The Track-It! Dashboard presents many important metrics including Downtime, Resource Utilization, Scrap, Skipped Operations, Processing Time, & OEE (more about this below).
The user is then able to drill further down into the data to view real-time reports.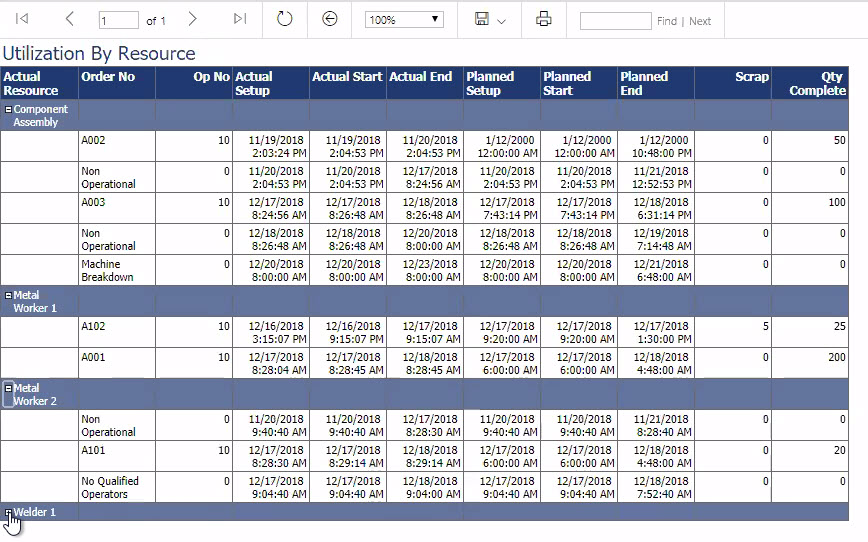 Overall Equipment Efficiency (OEE)

Track-It! measures and provides Overall Equipment Efficiency (OEE) calculations. OEE is the measure of how effectively the machines and fixed resources in a system are used.  It is an aggregate of three metrics:  Availability, Performance, and Quality that are then multiplied together.
Availability

is the measure of how much of the scheduled production time was actually used.  For instance, if a resource was intended to be in use for 8 hours, but only ran for 4 hours, then its Availability would be 50%.

Performance

is the measure of how efficiently the fixed resources were used to produce something.  For instance, if it was supposed to take 1 hour to make a part, but it actually took 2 hours, then its Performance was 50%.

Quality

is the measure of how efficiently the material resources were used to produce something.  For instance, if there's a scrap factor of 5% to make something, then its Quality is 95%.
You can produce an optimized schedule that is a work of art, but if the schedule is not followed, your objectives break down quickly.   We provide a method for tracking schedule compliance that is simple, yet extremely effective.   It works like this:
The schedule in Track-It! shows each operation on a resource in scheduled, chronological order.
The start of each activity is tracked in connection with the operations surrounding it.  
The first operation in the list will always be the objective.
If the second, third or other operation is started, the selection is recorded as out of compliance.
Using this method we can track:
How often each operator ran an operation out of compliance
How often a given order was run out of compliance
Which operators, resources, or resource groups are most often run out of compliance.
Let us answer those questions you have